Last weekend I went to Virginia Beach. It was a little chilly, windy, and wet with a coastal low hanging around, but I had a good time nonetheless shopping and dining out! Here are a few pictures.
On Friday it was quite damp and the ocean was churned up from the wind.
It was a bit cold.
See those fins in the water? They're dolphins!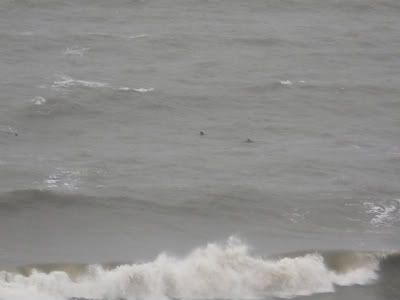 The sun finally came out on Monday!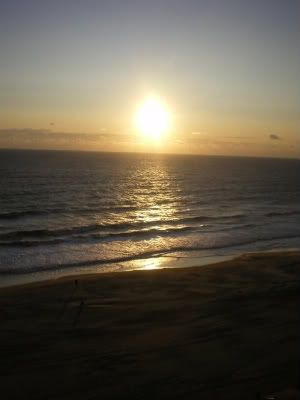 City side.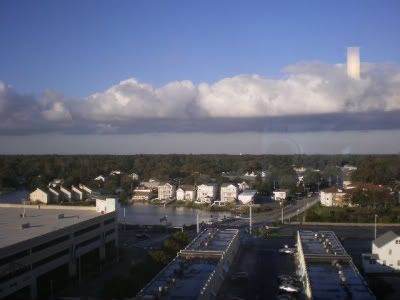 It was still a bit breezy on the shore.
I love the beach!
Here are this weekend's NASCAR forecasts:
NASCAR Camping World Truck Series - Martinsville, VA on Saturday (10/24) at 12:30 p.m. ET on SPEED. A cold front will cross Virginia on Saturday. Skies will be cloudy and there is a good chance of scattered showers and maybe an isolated rumble of thunder. The temperature will be around 66 degrees at race time.
NASCAR Nationwide Series - Memphis, TN on Saturday (10/24) at 3 p.m. ET on ESPN2. A departing system will leave a few clouds behind on Saturday. It will be a little breezy as well. Look for partial sunshine with a temperature near 62 degrees at the green flag.
NASCAR Sprint Cup - Martinsville, VA on Sunday (10/25) at 1 p.m. right here on TV3 (ABC). A low pressure system and cold front will approach the area on Friday. There is a 50% chance of showers around qualifying. The temperature will be near 68 degrees. Things look much better on Sunday as the system exits and high pressure builds in. Look for mostly sunny skies with a temperature around 65 degrees.
Be sure to listen to Sirius Speedway (Channel 128 on Sirius Satellite Radio) every Thursday around 3:30 p.m. ET to hear me give the NASCAR forecast! And now follow me on Twitter!!
http://twitter.com/WeatherGalCass