If you ever get the chance to go to the Indy 500... GO! Last year my friend Theresa's family had an extra ticket and invited me along. I was on the fence about it because it meant finding someone to fill in for me at work, and driving myself out to Indianapolis. Well, the race happened to be on the same day as my birthday, so I thought it would be a great way to celebrate! Of course, the minute I accepted the invitation, I knew it was going to rain. It usually rains on/around my birthday. (I'd say it's a 90% chance.) Models were hinting at rain about 15 days in advance, and any other time I would disregard something so far out... but I just had a feeling. So the Friday before the race (Carb Day) rolled around, and I made the 4 hour drive out from Ohio. (I-70 from Ohio to Indiana is very boring by the way.) It was surprisingly easy to navigate around Indianapolis, and I found the track with no problems. It's kind of in the middle of a neighborhood area and an industrial area. I remember it was very warm and humid that day, and when I walked in the gate I was just in awe. Here I was in the Indianapolis Motor Speedway! The Indy 500 has always been a part of my birthday because my parents always threw my family party on Memorial Day weekend. So the race was usually on our TV... trust me, it looks much different in person! The place is HUGE! So I called Theresa and it turned out she was on the complete opposite side of the track, and I had to walk about a mile to find her. It was neat to walk around and take everything in though. I found her, and then we watched the Pit Competition. Here is a picture of Helio Castroneves celebrating his team's win.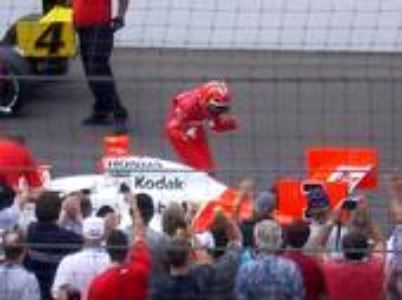 We got our first thunderstorm that evening. Theresa's family wanted to show me around downtown Indianapolis, and I remembered the mall we ate dinner in because I had been to Indianapolis in high school with my marching band to compete in the RCA Dome. We walked around in the city for a little while, and here is a picture of me and Theresa in Monument Circle, along with the capital building.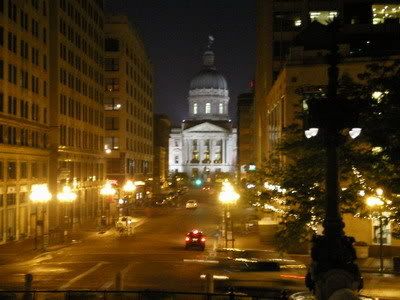 Saturday was the driver's autograph session and public driver's meeting. Again, we had to walk (more like sprint) a mile to the area where the autograph session was. Visiting IMS is certainly a good work out! The weather was cloudy, but dry for the autograph session. That was the first time I met drivers like Dan Wheldon, Danica Patrick, Scott Dixon, Ryan Briscoe, Sam Hornish, Jr., and Marco Andretti. (It's crazy to think I got to interview some of them at Mid-Ohio later in the season!!) I really enjoyed that part of the day... then it started to rain again. We sat in the covered portion of the bleachers on the front stretch for the public driver's meeting. All I remember was looking at the jumbo radar image on the big screens, haha! Here is a photo.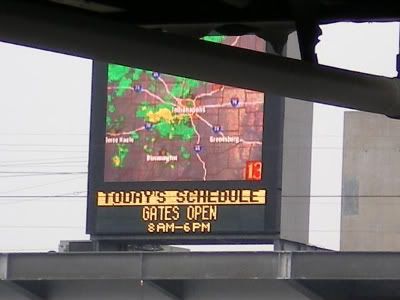 Sunday (race day) we woke up to some showers. I believe we sat in the car waiting for it to stop raining at the track snacking on doughnuts and reading the local newspapers. The rain did let up, and the sun peeked out! That began the first track drying process of the day. A tip: make sure to have ear protection at any speedway because not only are the engines loud, but the jet dryers are even louder! We walked around the infield for a bit until it was almost time for the race to start. Our seats were in turn one, only a few rows up. When the green flag dropped, it was insane! The cars came flying at us... it was so exciting! Things were running pretty well for a while. Since I'm a meteorologist, I have a tendency to always be looking around at the sky, and I noticed dark clouds rolling in. Sure enough it started pouring, and the race was stopped. I remember calling my mom on my cell and asking her to interpret the radar for me. There was a break in the rain, but more storms were forming over Illinois. I can't remember exactly, but I think we waited at least 2 hrs for the track to be dried for the second time that day. During that time, we had some yummy IMS hot dogs! The race went green again, but I had a feeling we wouldn't see anymore than another hour of racing before the skies opened again. See, when you have a warm and humid atmosphere, the smallest amount of sunshine can aid in the development of storms by making the atmosphere unstable. With a few peeks of sun, storms did indeed form and roll through before the race was completed. They did get enough laps in to call the race though (thank goodness) and Dario Franchitti celebrated his victory! We threw on our ponchos (also a very wise thing to have at a race) and ran back to the car, and amazingly beat the traffic out.
From left to right: Andrea, Me, Theresa, Margaret
Street sweeper cleaning up after an accident. Notice the clouds...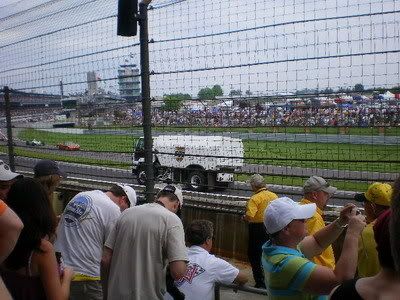 The cars coming around during a caution.
Monday was my day off work, and we toured the IMS museum. It was a lot of fun seeing all the old cars and we watched a movie about the history of the track. But the best part was taking a bus ride around the track! The amount of trash people had left behind was INCREDIBLE. I think they told us volunteers like Boy Scouts come in and clean it up. After dining out for lunch, I parted ways with Theresa and her family and made the dull drive back to Ohio. It was a weekend and a birthday I will never forget! And now I am completely addicted to IndyCar racing. I am very disappointed that I can't go to Indy this year (being the new person on staff, I have to wait a little longer to get vacation time), but I will be glued to my TV on Sunday afternoon! I will be going to the Richmond race this year, which is one I couldn't go to last year... so I am counting down the days! To all my readers who are going to Indy... have fun!!!
Looking through the windshield during my ride on the track.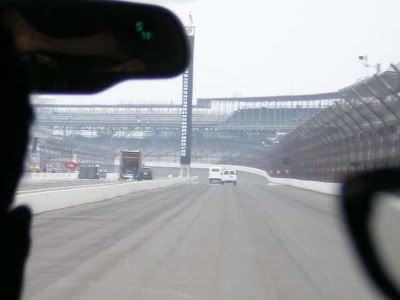 The famous bricks at the start/finish.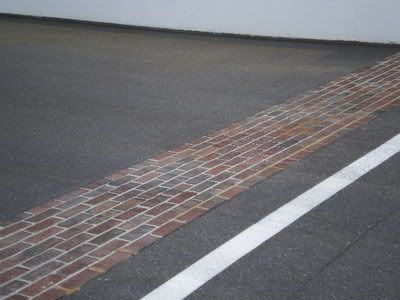 LOTS of trash!
And now perhaps the most important racing forecasts:
IndyCar Series - Indianapolis 500, Indianapolis Motor Speedway, Sunday (5/25) at Noon RIGHT HERE ON TV3!! Since there are so many events happening this weekend, I won't list them all here. You can visit
www.indycar.com
for a complete weekend schedule. Well, after putting up with numerous rained out practices and qualifying sessions, Saturday and Sunday look to be beautiful! Plenty of sunshine thanks to high pressure which finally pushed out the trough in the east. On Saturday, temperatures will reach into the mid 70's. On Sunday Temperatures will be seasonably warm near 80 with the start of the race around 77 degrees. Some passing clouds are possible. Winds will be light from the southeast. Remember a hat, sunglasses, and sunscreen!
NASCAR Craftsman Truck Series - Mansfield Motorsports Park in Mansfield, OH, Saturday (5/24) at 12:30 p.m. ET on SPEED. High pressure building in from the north will provide plenty of sunshine! Highs will approach 68 degrees in the afternoon with a cool north breeze.
Nationwide Series - Lowe's Motor Speedway, Saturday (5/24) at 7 p.m. ET on ESPN2. Skies will turn mostly sunny after some morning clouds thanks to high pressure! Temperatures will be near 75 degrees at race time with a northeast wind 5-10 mph.
Sprint Cup Series - Lowe's Motor Speedway, Sunday (5/25) at 5 p.m. on FOX. Plentiful sunshine with high pressure dominating the east! The temperature will be near 80. A great weekend for racing!
Summit Point Motorsports Park - SCCA Time Trials, PA Hillclimb Association, Saturday (5/24) and Sunday (5/25). I'll be at Summit Point this weekend to support my dad! High pressure building in from Canada will bring cool, dry air. Expect lots of sunshine on both days! Saturday temperatures will top out in the lower 70's. Winds from the north at 10-15 mph. Sunday will be warmer with a high near 76. Don't forget the sunscreen!
Winchester Speedway - Virginia Sprint Series appearance, Saturday night (5/24), gates open at 4:30 p.m., racing starts at 7 p.m. Skies will be clear thanks to high pressure! Take a jacket along as temperatures drop from the lower 70's into the lower 60's as the sun sets.
Two last photos from inside the IMS museum.